NOTA. WORK / Vegtable-Tanned Leather Cover
NT$4,000.00 – NT$4,280.00
The most universal and customisable notebook!
Book NOTA series is a reinvented notebook organiser with flexible modulating features and a magnetic binding system. It is perfect for brainstorming and presentations and takes your creativity to the next level. It helps with organising your ideas and keeping your daily carryings minimal.
Book NOTA values the virtue of physical note-taking and visualising creative ideas. It brings a refreshing experience with its intricate magnetic book spine and modular binder design. Users can organise binders for different usages, assign them for various project management, expand use with booklets and accessories from other brands, or convert them into multiple organisers.
the universal A4 size- NOTA Work / veg-tanned leather
You'll never need to worry about refilling your beloved notebooks or need to buy various layout designs. The Work edition uses universal A4 paper to refill and accommodates the Daily binder with its add-ons—the most flexible, versatile notebook for any professional or creative use.Veg-tanned cowhide, with a warm and smooth touch, develops a unique color and texture with use.
Specs:
Work veg-tanned leather cover * 1

Work magnetic binder * 2

20 sheets of A4 paper 

A5 adaptor * 1 ( accommodates any A5 size booklet )

Nota Puncher (with or without)
Weight: 435 g
Dimensions: 30 * 227 * 166 mm
Material: veg-tanned leather, silicone band, aluminium, magnets
【 reminder 】
The vegetable-tanned leather will sometimes retain inevitable traits like bug bites, wrinkles or scar marks. Therefore, products will sometime have qualities caused by these natural factors. Please understand and consider these features when purchasing the product.
Standard shipping offers trackable service without signing. It's a more economical option; However, it bears the risk of parcel theft or delays. The Express shipping provides a more reliable and secure tracking and signature service. We strongly recommend using express shipping for high-value orders, as the package is simpler to track down from both ends and avoid parcel theft. ANTOU would not be able to compensate for the loss of the parcel if it is delivered but stolen.
Description
Description
Book NOTA. A versatile tool perfect for brainstorming and presentations that takes your creativity to the next level! All your hard work deserves an equally powerful notebook that makes you more productive and organized. Elevate your work efficiency right from start to finish!
It has been over three years since COVID, and the old days of working stationary in an office had shifted to work from home and now transcend to work everywhere. The pursuit of efficiency with a swift and elegant lifestyle is what we seek now for a brilliant work-life balance.We, as product designers and stationery enthusiasts – now often work simultaneously in the studio, cafes, workshops, or meeting clients. We were also looking for brilliant tools to cover our needs for heavy use of writing, drawing, and tool organising, which is why we came up with the book NOTA series.
"Free your inspiration, organize with clarity!"
Book NOTA is a reinvented notebook and personal organizer with flexible modulating features and magnetic binding technology, keeping your ideas organized and  daily-carrying simple. It's perfect for brainstorming and presentations that take your creativity to the next level.
American YT Stationery Collector
"Men Who Bullet" 
Sharing Experience with NOTA WORK
Design Feature No 1.

【  Fast Changing Magnetic Modular System 】
Multiple Organizer Accessories
Premium Leather Organizer
Design Feature No 2.【  Quick Assembly Page x Custom Puncher 】
Taking Paper In & Out In 3 Sec
Using Easily Accessible A4-Sized Paper 
NOTA puncher to DIY the refill paper
Design Feature No 3.【  20+ Design Online Templates For 
Free
 】
 Free To Download 20+ Templates
Add Any Preferred Paper
Design Feature No 4.【 Adapter Design x Integrate With Other Booklets 】
Integrate With Other Brands' Booklets
Switch Into A Lay-Flat Style Notebook.
Design Feature No 5.【 Quality Built x Reliable Materials
】
Vegetable Tanned Leather
As time goes by, Book NOTA develops a natural patina adding another element to its look and a softer, more forgiving texture. Making it a truly unique and eye-catching piece that mirrors your lifestyle and reflects your habits, in other words, more irresistible to use. Experience alluring, glossy textures and aroma with luxurious designs while still keeping your notes and sketches organized and well protected.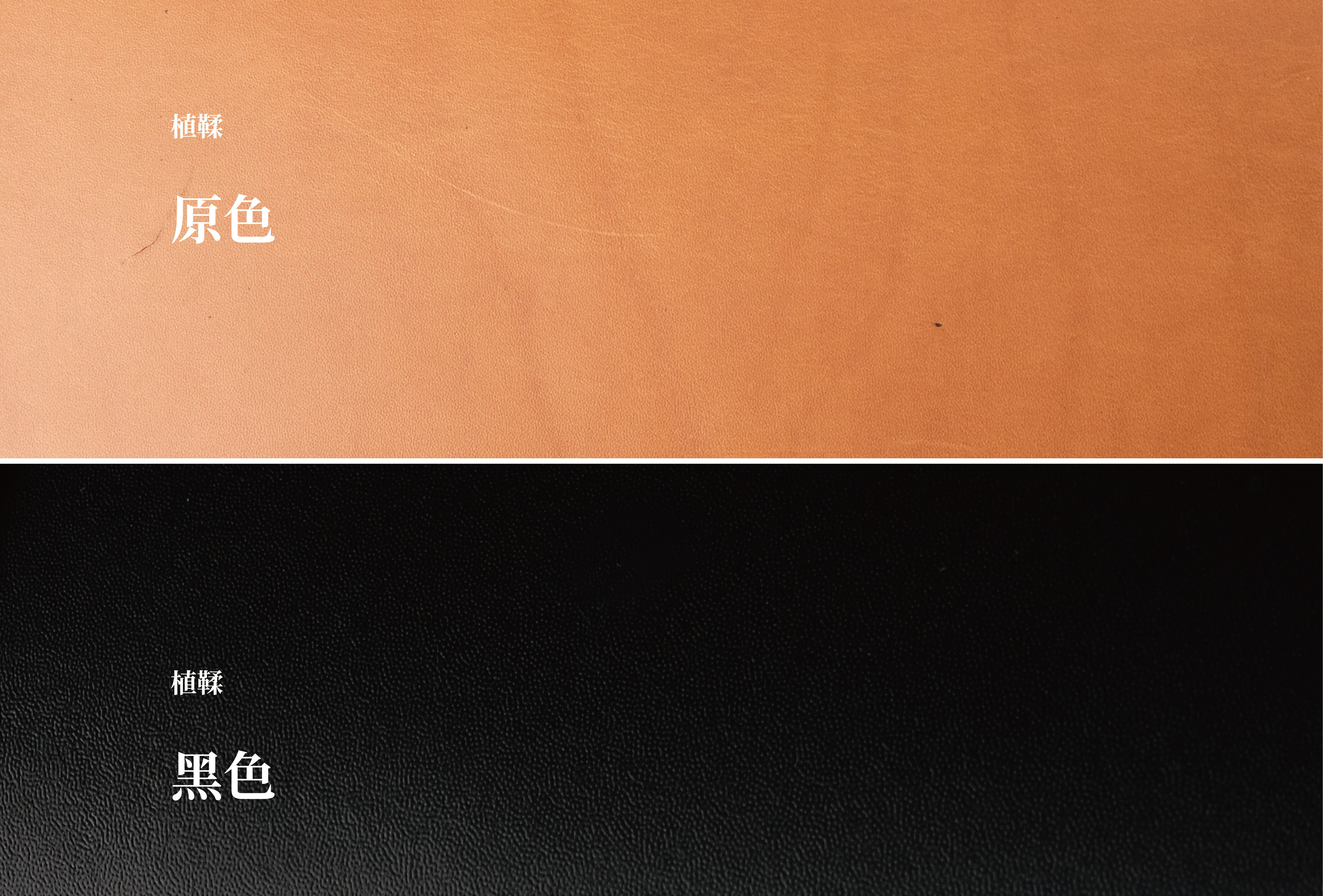 "Durable Aluminum Structures"
The binders are made of 6061 aircraft-grade aluminium alloy, precision CNC and hard anodised colouring to achieve superior durability. The U notch on the NOTA WORK binder had further improved with a slightly rounded edge to protect the silicone band.
"Food-grade Silicone Band With Safety And Non-toxic Properties."
WORK silicone band are specially developed as food-grade, safe and non-toxic materials, with strict quality control measures in place. With a thickness increased to 1.3mm, the durability of the product has been significantly enhanced. Moreover, the upgraded color options are matched with corresponding colors of binder , including black and white, to create a more consistent and eye-catching series.
▼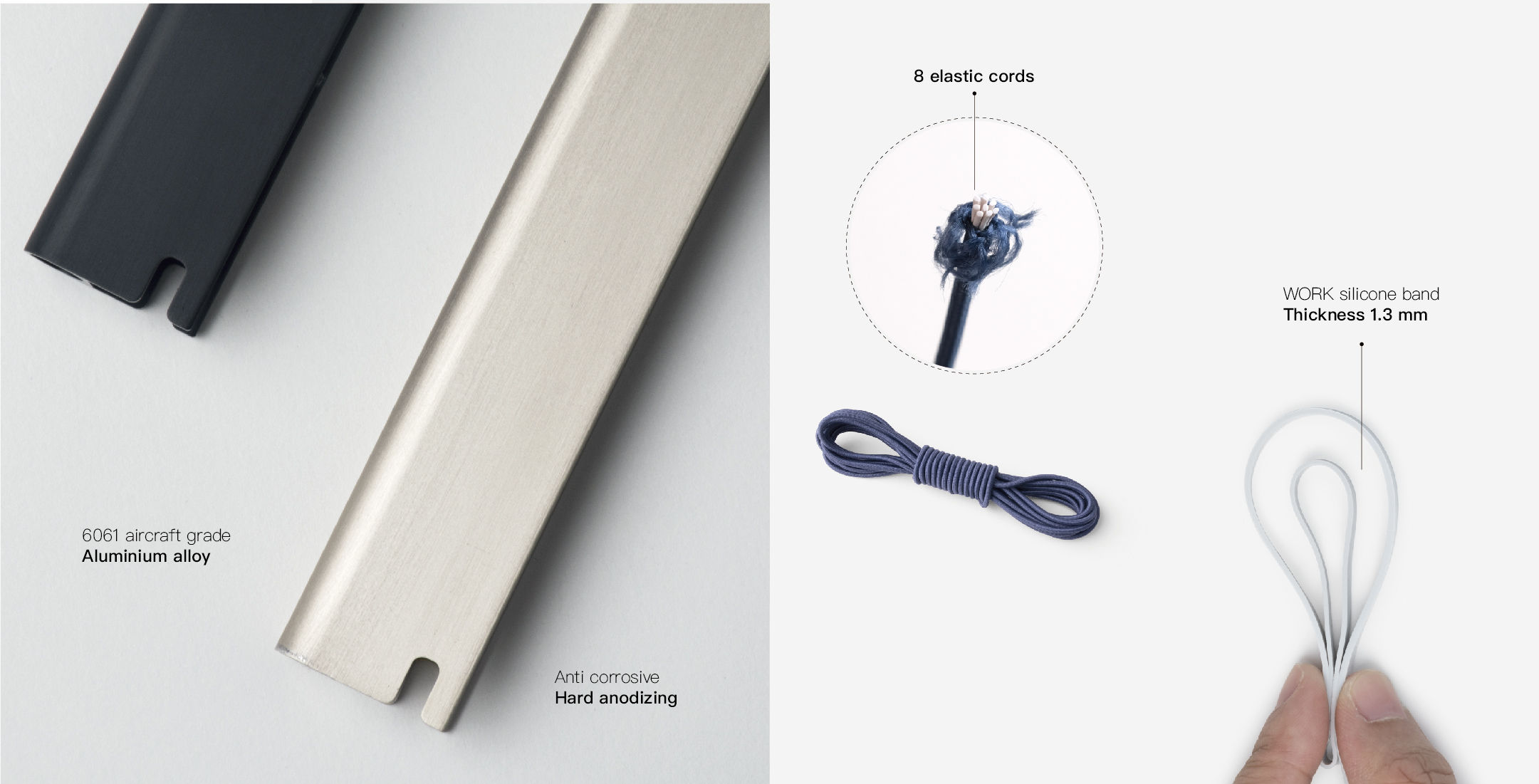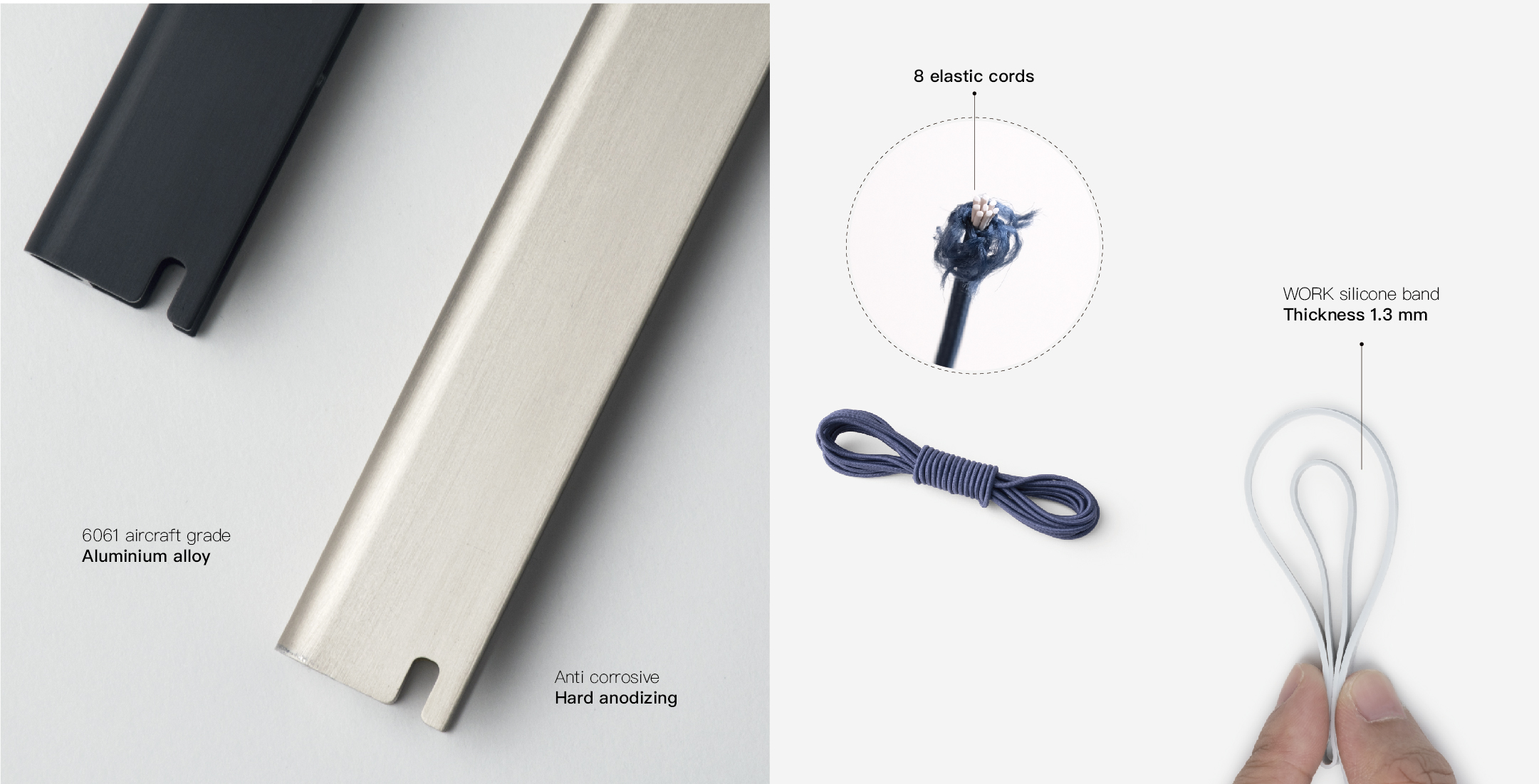 【 Customization reminder 】
Applicable for all leather products

For regular customization. Font and size are settled for the best resolution

8 characters – including punctuations, digits, space tab

Leave a description of the engraving content(s) in the order notes column

7-10 working days is expected before shipping

For any enquiries, please email – [email protected]

Heat embossing customization is bespoke item and can not be refunded or return.
【 Kind reminder 】
Products are checked and passed our QC standards before shipped. Minute scratches or colour differences between parts are considered equitable due to mass-produce conditions. 

Suppose the purchase happened to be a defective one. Please return the product with the package intact, and we will fully refund the purchase. The refund process may take up to 20 working days due to the banking system. 

For any enquiries, please email – [email protected]
Additional information
Additional information
| | |
| --- | --- |
| book cover | veg-tanned / black, veg-tanned / light brown |
| book binder | matt black, titanium silver |
| NOTA. puncher | with puncher, without puncher |